Resume, Cover Letter, and Interview Preparation
Application Materials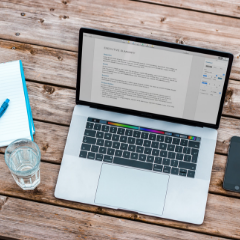 ♦ Develop a strong resume and cover letter

♦ Gather a list of professional references

♦ Brush up on interview skills
Application Materials
The LAS Career Development Office offers support services for resume and cover letter development, interview preparation, and other application questions. Below is a guide to help you get started.
Resume Preparation Guide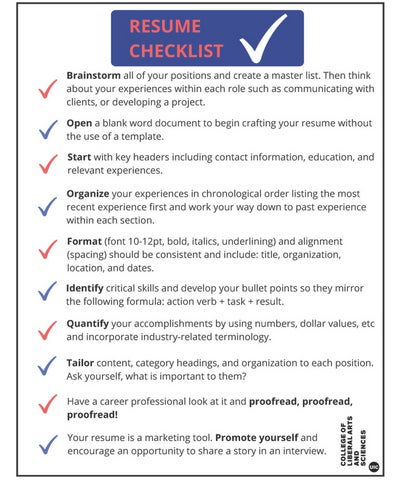 Purpose: Your internship resume serves as a selling tool so you can summarize your experiences that are most relevant to a potential employer. Your goal is to produce a resume that is concise, well-ordered and communicates what you have contributed to your past employers. It will be used as talking points in your interviews.
Format:

Name and Contact Information at the top-Include address, phone number and email address. Be sure to use a phone number where an employer can reach you. Be sure your voicemail greeting is clear and professional. Email addresses should also be professional.
First Section is Education-Include UIC and any other college where you earned a degree.
Reverse Chronological Format-Your experiences are listed with your most recent experiences first.
Suggested Section Headings-Relevant Coursework, Independent Study, Internship Experience, Research Experience, Relevant Experience, Related Experience, Skills, Professional Experience, Volunteer Experience, Honors, Awards, Activities, Organizations, Involvement, and Leadership Experience
Aesthetics-Don't use a template and make sure to be consistent with capitalization, abbreviations, dates, and spelling. Proofread, Proofread, Proofread!
Bullet Points-Include bullet points on your resume that serve as achievement statements to highlight your skills. They should follow this formula: ACTION VERB TASK PURPOSE
Access the list of downloads below!
Cover Letter Preparation Guide
Purpose: Your internship cover letter serves as a supplement to your resume to expand on a few of your experiences and highlight the skills you gained and how those skills align with the organization's needs.
Format:
Your Contact Information
Date
Internship Manager Name
Manager's Contact Information
Dear Internship Manager (Use name if available),
First Paragraph: Introduce yourself with your name, year in school, major, and area of interest. State why you are writing, name the position or type of work for which you are applying, and mention how you heard of the opening.
Second Paragraph: Identify 3 skills/strengths you have that will help the employer. Prove that you have each of the skills by identifying a time you used it. Explain your reasons and qualifications for desiring this type of work and how you see yourself fitting into the company.
Third Paragraph: Explain why you are interested in working for this employer specifically. Use characteristics specific to the company to demonstrate that you have done your research.
Fourth Paragraph: Have an appropriate closing that thanks the reader and paves the way for the interview.
Sincerely,
Sign Your Name
Type Your Name
Attachment(s): resume -or- Enclosure(s): resume
References List Preparation Guide
Purpose: Your internship references should include supervisors, professors, academic advisors, and student group advisors who can speak about your skills and work ethic. You should always have three professional references.
Always contact your reference first to ask permission to use them as your reference. This gives you the opportunity to tell your reference what you are pursuing and why. These individuals should be familiar with your skills and personal attributes. They should be someone who can attest to your qualifications for a particular position. Provide a copy of your resume to your reference.
Format: Use the same heading as you did for your resume and cover letter. Then title the document "References"